Day 15: Oscar Pistorius murder trial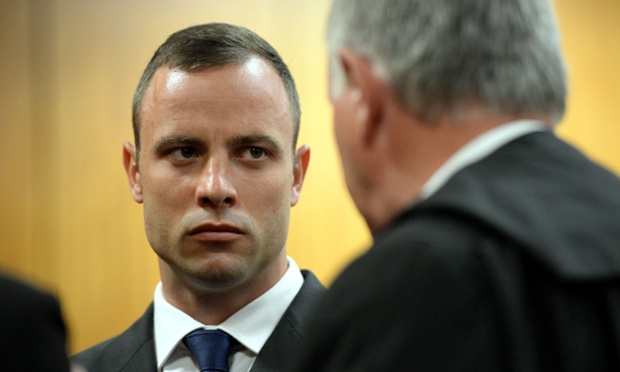 As the prosecution in Oscar Pistorius' murder trial rested its case Tuesday, a member of the star athlete's family told journalists from the front row of the public gallery, "He's ready" to take the stand.
Pistorius appeared resigned but resolute, murmuring as he left court, "It's a tough time. We've got a lot of stuff ahead of us."
The Paralympian, accused of premeditated murder of his model girlfriend Reeva Steenkamp on Valentine's Day 2013, is expected to testify Friday. It is respected practice in the South African legal system for the accused to give evidence before any other defense witnesses are called.
But when asked if the athlete would be on the stand before the end of the week, his legal team remained cagey. "We'll see about that," defense lawyer Kenny Oldwadge said.
"I don't think we've got a choice, it's a question of when," Pistorius' advising attorney, Brian Webber, said of the likelihood of his client's testimony. South Africa's constitution allows Pistorius to refrain from testifying in his own defense.
The athlete gave his detailed account of events during his bail hearing in February last year. In his plea explanation at the beginning of the trial, Pistorius spoke of his opportunity to "deal with a comprehensive version of the events when I testify."
Court proceedings will resume Friday after a two-day adjournment requested by the defense, in order to consult with witnesses, including some of those on the state witness list who have not yet been called to the stand.
This is also the period in which Pistorius' defense team is procedurally allowed to apply for an acquittal, although legal experts say it would be an unlikely strategy considering the athlete's bail affidavit states that he knowingly fired his gun through a door.
The star athlete maintains that he believed Steenkamp was an intruder when he shot and killed her in the pre-dawn hours of Feb. 14 last year.
In cross-examination of police mobile phone expert captain Francois Moller, defense attorney Barry Roux determinedly painted a picture of the ill-fated couple as caring lovers through their WhatsApp messages – a selection of which the state prosecution used Monday to show the court their more tempestuous nature.
Steenkamp to Pistorius: "Baby I love spending time with you and sleeping next to you. I just don't ever want to cramp your style or give you space when you need it. Promise me you will let me know when you need some Oscar time." He replied: "I love having you sleep next to me too Baba. You never cramp my style."
One selection after another from the couple's 1709 WhatsApps messages on Steenkamp's phone were read out in court by Moller, with the usually stern Roux interrupting to point out "smiley faces," and read out strings of "kiss, kiss, kiss."
The notes are interspersed with lovers' nicknames: Boo, Angel, Baba, Bubs, rockstar.
A photograph of Steenkamp in a black hoodie, blowing a kiss. "You like it?" Pistorius asks. "I love it. So warm. Thank you xxx" Steenkamp replies.
"Just don't move around much while they tint in between the foils, it's very important the foils don't move," Pistorius reminds Steenkamp, as he messages her on her salon day.
"Truth is, i miss you. all the time, every second ever minute every hour, every day," Steenkamp sent, on an inscribed image to Pistorius on Jan. 29 last year.
"Baby, can I cook for u on Thursday [Valentine's Day]?" Steenkamp asked Pistorius, three days before she was shot dead in his toilet.
Roux even screened CCTV footage from a gas station of the happy couple, replete with impromptu kisses in between the bread and fruit from a late-night grocery run, less than two weeks before the shooting.
The messages paint the picture of a young couple very much in love, right up to the day Pistorius killed his girlfriend. Roux went to great lengths to show that after each argument, pointed out by the prosecution, there was always a reconciliation.
"I missssssss uuuuuuuu," Steenkamp wrote to Pistorius, two days before she was killed. "I miss youuuuu," Pistorius replied.
"Noooooo, I miss you more," Steenkamp continued. "I miss you 1 more than you miss me always," said Pistorius. "Impossible," responded Steenkamp.
Roux also highlighted messages from Feb. 12, just two days before Steenkamp was killed, where she said an ex-boyfriend wanted to have coffee and catch up, but she'd see him another day. Pistorius told her to go. This was clearly a counter to other WhatsApp messages suggesting Pistorius had a volatile jealous side.
The athlete sat upright, listening as their intimate conversations were read to the courtroom. He silently wiped away inconspicuous tears from under his glasses.
Sitting only feet away, listening to her best friend's words to her lover, was Gina Myers, who has attended the trial for the first time. Next to her was former soccer player and sports presenter Mark Batchelor, the man who has said that Pistorius threatened to break his legs in an altercation over a woman.
Ultimately, the defense's case rests on Pistorius' assertion of mistaken identity and fear of crime, an issue the state prosecution sought to counter with its penultimate witness, police officer Hendrik Adriaan Maritz, who analyzes crime patterns in the athlete's neighborhood.
Displayed in court was a pictorial depiction of reported crimes in the Silver Lakes area. Yellow dots represented house robberies, and the only dark purple dot for "murder" lay over Pistorius' own home.
Between January 2011 and April 2013 in the Silver Woods housing estate, another diagram showed that there were two instances of fraud, thefts at three other homes, a case of malicious damage, one house robbery, and only one murder – Steenkamp's.
In his bail affidavit, Pistorius spoke of his acute awareness of violent crime and home intrusions, saying he had also received death threats. "I have also been a victim of violence and of burglaries before," he said.
Roux emphasized this to the court Tuesday, saying his client had been the victim of crime "many times." However, the prosecution pointed out he had never reported any.
In a final attempt to discredit the police investigation as the state wrapped up its case, Roux interrogated Col. Gerhard Vermeulen, the forensic expert who testified that he believed Pistorius to be on his stumps when he hit the door with the cricket bat, a direct contradiction to the athlete's account of events.
Insinuating the investigators had pre-judged Pistorius' guilt, Roux questioned why Vermeulen had not attempted to physically match the cricket bat to a higher mark in the toilet door, which may have only been in reach of the double-amputee if he was wearing his prostheses.
Prosecutors pointed out the mark did not break the door, and so it could have been from a strike of a lesser force, potentially from Pistorius on his stumps, but closer to the door.
It is the forensic evidence – and the bickering over these small details – that will decide the case, where the murder-accused is the only living witness.
"This is the state's case," state prosecutor Gerrie Nel said in conclussion.