I am happy at Manchester United - Van Persie
Robin van Persie has insisted he is 'very happy' at Manchester United and has no problems with manager David Moyes.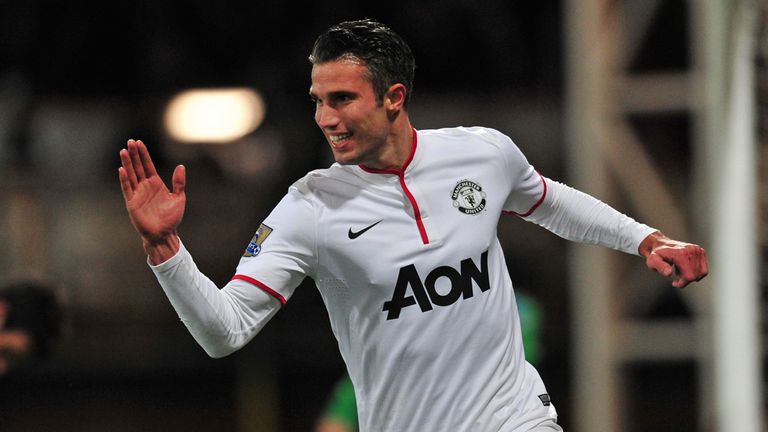 Dutch striker Van Persie was instrumental in United's Premier League title success last season after arriving from Arsenal in what proved to be Sir Alex Ferguson's final campaign in charge.
He has scored 14 goals in 23 appearances for United this term, but the 30-year-old's performances and attitude have come under scrutiny.
There have been suggestions that Van Persie is unhappy with Moyes' training methods and could look to leave Old Trafford at the end of the season.
However, Van Persie has moved to set the record straight regarding his future and confirmed that he would be willing to extend his contract, which still has two years to run.
"I don't mind if my performances get dissected and people criticise what I've done on the pitch," Van Persie said in the club's official matchday programme United Review.
"They can talk about my game 24/7 for all I care... and a lot of those opinions and criticisms may actually be right. So I don't mind that.
"What I need to address are the situations when people are taking it upon themselves to think for me, make assumptions, or interpret things as if they are me.
"Last time I checked, my head was still attached to my body, so I'm the only one who knows exactly what I'm feeling and that is not what I or the fans have been reading.
"The truth is I'm very happy here at this club. I signed for four years and I'd be delighted to stay even longer, beyond the next two years I have left on my contract. This is how I feel, although it's not what has been suggested in the media."
Regarding the claims that Van Persie is at odds with Moyes, the coaching staff and his team-mates, the former Feyenoord attacker dismissed the speculation.
He added: "I'm very happy with my team-mates and I'm very happy with my manager and his staff. The sessions we have on the training ground are fantastic and I'm learning a lot from them every day.
"I've been a professional footballer for 12 years now and there's no doubt I'm learning new things and progressing with David Moyes.
"Like I said, talk about my performances or talk about a tackle that was too late. I don't mind. But it goes too far when people start suggesting, amongst other things, that I have a bad understanding with the manager. That's not true at all.
"Over the last few years, I've started to look more closely at the way coaches work to learn from them - not just here at the club, but with the international team as well. I've worked with some brilliant coaches and I've taken a real interest in all the methods they use and the choices they make.
"I can tell you that Moyes' sessions and the things he says in his team meetings are spot-on. I really enjoy working under him and I'm absolutely convinced things will pick up and we'll turn it around.
"There is mutual respect between us and the work environment is actually good. He really wants things to work here at Manchester United and I want the same, just like the other players. We're all working hard to make this work."