Serena Williams wins 7th Sony Open title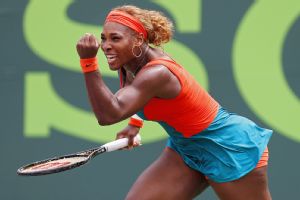 Serena Williams rallied from a big first-set deficit and beat Li Na in straight sets to record her seventh title in Miami.
The celebration began with a series of happy hops that propelled Serena Williams across the court. Soon she was twirling, waving, laughing and mugging for the cameras -- a familiar ritual by a perennial champion.
Williams won a record seventh Key Biscayne title Saturday when she overcame a slow start and a set point to beat Li Na 7-5, 6-1 at the Sony Open. She surpassed the tournament record of six titles she shared with Andre Agassi.
"I was actually super excited at the end," Williams said, "because I remember sitting here last year trying to get to six, thinking, 'OK, obviously I want seven, but I don't want to put the pressure on myself to get to seven.' Obviously I wanted to have the most titles here."
The No. 1-ranked Williams looked tense at the outset and served poorly, and she was broken twice to fall behind 5-2.
"At that moment I felt like I had nothing to lose," Williams said. "I just was able to relax. Whenever I relax, I enjoy myself."
Li held a set point serving at 5-4, but Williams erased it with a backhand winner.
Williams needed another 21 minutes to pull out the set. The final game of the set went to deuce six times, but she finally won it with a booming backhand that Li couldn't handle.
Williams ran to her chair with a satisfied scream, her left fist leading the way. She dominated from there, sweeping the final five games.
The 17-time Grand Slam champion has more titles at Key Biscayne than at any other tournament. She's the fourth woman in the Open era to win an event at least seven times.
"I think we're going to have to rename this tournament," former top-five player Mary Joe Fernandez said during the trophy ceremony.
They're close in age, but it's a commentary on the yawning gap between Williams and the rest of the women's tour that, even while at less than her best, she won in straight sets against the No. 2-ranked player. She made only 44 percent of her first serves and converted just five of 17 break-point chances.
Even so, Williams extended her winning streak against top-10 opponents to 15 matches. She beat Li for the 10th time in a row since 2009.
The top-ranked men will meet in Sunday's final, when No. 1 Rafael Nadal tries for his first Key Biscayne title against No. 2 Novak Djokovic, a three-time champion.