Falana asks FG to refund N700m NIS recruitment fees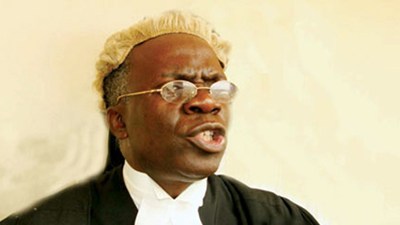 Human rights lawyer, Mr. Femi Falana (SAN), has asked the Minister of Interior, Mr. Abba Moro, to refund the fees collected from applicants for the jobs in the National Immigration Services.
Falana alleged in a letter dated April 2, 2014, and addressed to the minister, that the money, totaling about N700m was "extorted" from the applicants "as there was no plan to employ the majority of them."
The letter was entitled, 'Demand for the refund of
recruitment fee of N700m'.
The lawyer threatened to sue the minister "for extorting N700m from the job seekers on behalf of the Federal Government" if the demand for the refund of the money was not acceded to.
"It is hoped that you will not compel us to resort to litigation in the circumstance as it will expose the Federal Government to untold embarrassment," Falana stated in his letter.
The recruitment tests conducted across the country on March 15 left about 20 applicants dead and many others injured in the stampede which charaterised the exercise.
The Lagos lawyer rejected the minister's excuse for not refunding the money because the Federal Government had not ordered his ministry to do so.
The lawyer argued that since there was no bill by the National Assembly to impose the fee on the job applicants, the minister's action amounted to a violation of Section 59 (1) (b) of the Constitution of the Federal Republic of Nigeria, 1999.
He said, "In spite of your official negligence which led to the tragic death of 20 of the applicants, you stated that the Federal Government had not ordered you to refund the said sum of N700, 000,000.00k. You have therefore decided not to refund the money or forfeit it to the Federal Government.
"However, since the National Assembly did not pass any money bill authorising the collection of the recruitment fee or levy of one thousand Naira per applicant, your action is a violation of Section 59 (1) (b) of the Constitution of the Federal Republic of Nigeria, 1999 (as amended) which provides that there shall be a bill 'for the imposition of or increase in any tax, duty or fee or any reduction, withdrawal or cancellation thereof'."